The Ultimate Guide to Cloud Computing: What Your Business Needs To Know
Cloud computing is used by everyone nowadays because of its advantages. Do you know?  The cloud services market is expected to grow at a CAGR (Compound Annual Growth Rate) of 15.7% from 2022 to 2030.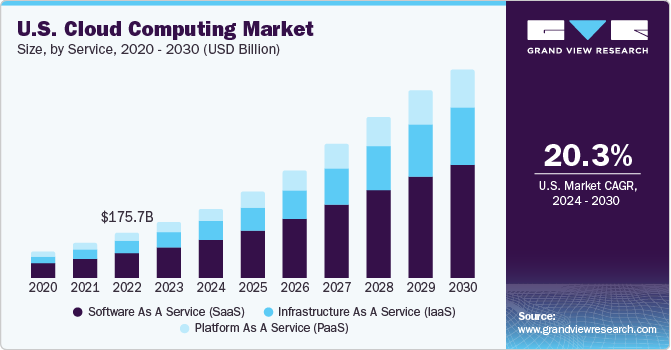 Are you also looking for a guide to understanding cloud computing in detail? Then read this blog completely. We cover all the details related to cloud computing such as what is cloud computing, industries cater by cloud computing, tips to look forward to selecting the best cloud service provider, etc.  
What is Cloud Computing?
Cloud computing can be defined as storing and accessing data over the internet and not on a personal computer. It is a shared pool that is made up of two words cloud and computing where cloud is a vast storage space and computing means the use of computers. In other words, cloud computing is an on-demand or pay-as-per-use availability for hardware and software services and resources. These clouds can be of several types. Let us discuss them in detail.   
How Cloud Computing Works?
Let us help you to understand the working of cloud computing in brief. Suppose a user makes a storage request, database access request, or computing request. This request then moves to the API gateway. API gateway is a service provided by the cloud service provider that can be used to create, publish, monitor, and maintain the HTTP, REST, and WebSocket APIs. This API gateway is connected directly to the servers. These servers are also known as virtual servers or virtual platforms. These servers work by virtualization of physical servers and hence are accessible by the users. Cloud servers are managed by cloud-based API. 
The front end in the cloud computing architecture includes the connection between computer networks and applications. It is the section where users can communicate and access the data and information.  
The back end in cloud computing architecture consists of the important materials required to provide cloud computing services. A cloud computing system consists of different applications. It consists of a separate set of servers.  
The network works between the front end and back end, acting as a medium between users and clouds.  
The operations in cloud computing are performed by central servers as per the given set of instructions called protocols. These protocols make use of middleware and ensure the connectivity between users and cloud computing services.  
Cloud is a system that shares information with the help of satellites. In cloud computing, every cloud application is associated with a host and cloud company. These cloud companies are responsible for the maintenance of cloud services. These companies are also responsible for storage, security, computing power, and other important stuff related to their cloud services.   
Read more: Which Is Better for Your Business Colocation or the Cloud?
Types of Cloud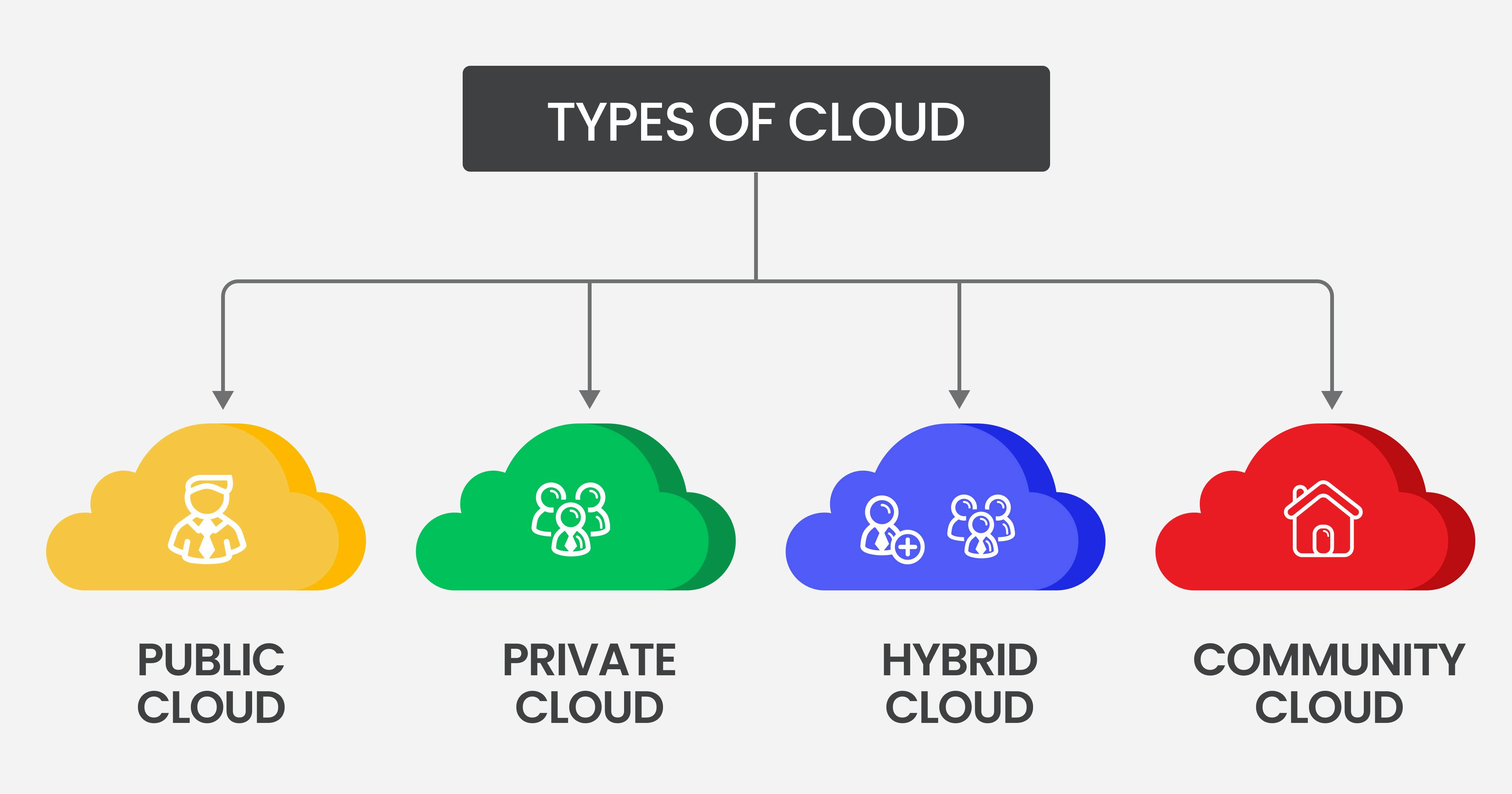 Public Cloud:
Public clouds are provided by third parties and can provide services to the public with the help of the internet. You can opt for these services and pay as per use. This makes these clouds a cost-effective option for startups and small companies, which can start their business with a small budget. With public clouds, users can get a completely isolated virtual environment to complete their IT (Information Technology) needs.  
Advantages of Public cloud:
It offers high scalability.

 

It is a cost-effective option.

 

It offers flexibility and reliability. 

 
Disadvantages of the Public cloud:
It offers limited visibility.

 

Data security concerns are always there. 
Read more: How Cloud Computing Can Help Businesses? A Comprehensive Guide
Private Cloud:
Private clouds are distributed systems dedicated to a particular enterprise. Instead of pay-per-use as in public clouds, private clouds follow different billing systems that can be used by different departments. Some of the private clouds are HP Data Centers, Ubuntu, Elastic-Private cloud, Microsoft, etc. 
Advantages of Private cloud
Data is more secure in private clouds as compared to public clouds. 

 

Private cloud provides other crucial features such as appropriate clustering, data replication, system monitoring, and maintenance, disaster recovery, and other uptime services. 

 
Disadvantages of Private cloud
Restricted operations: Private clouds are user and department specific. Only a few sets of operations are allowed to users which might not be allowed to other users. 

 

Expertise requirement: In the case of private clouds, experts are needed to manage customer data.
Hybrid Cloud:
A hybrid cloud is a combination of private and public clouds. Some of the major companies, such as NASA, are using these types of clouds. NASA uses a private cloud to store some sensitive information and a public cloud to store the information which can be shared. By 2023, the hybrid cloud model market is expected to grow by $97.6 billion at a 17% CAGR.   
Advantages of Hybrid Cloud
It provides better resource allocation and improves data security. It allows you to store sensitive data within the private cloud and sharable data on the public data. 

 

This model allows you to take advantage of new cloud technology along with legacy systems. Disadvantages of Hybrid cloud.
Disadvantages of Hybrid Cloud
The cost of the hybrid cloud model is more than compared to the public cloud model. 

 

Its public cloud compatibility with the existing system could be another issue.
Community cloud:
A community cloud is cloud architecture that provides services to multiple organizations. Organizations that are sharing the same services and concerns such as privacy, security, compliance, etc. can take advantage of this community cloud. The community cloud is one of the most recent phenomena in cloud computing and is a little different than public, private, and hybrid clouds.  
Need Help With Cloud Solutions?
Our experts can help you in developing your next world-class cloud softwares.
Top Cloud Computing trends to look forward to:
More artificial intelligence and machine learning-powered clouds: 
Cloud providers are using AI (Artificial Intelligence) and ML-based Algos to handle enormous networks in cloud computing. It also helps to automate routine activities, enhancing the performance of the companies.   
Internet of Things:
It is one of the major trends in cloud computing that helps in connecting machines, networks, and servers. It ensures seamless communication between the cloud and the user by providing real-time analytics for cloud computing. These technologies have different purposes and can enhance the IOT services provided to clients.   
Blockchain:
This technology helps to record the transactions of assets. Cloud computing works with central servers. These servers might be prone to hackers. On the other hand, blockchain works on the concept of decentralization. Blockchain can help to build decentral and secure systems in cloud computing.   
Evolution of no code or low code cloud services:
Users are always looking for no-code or low-code platforms. These low-code and no-code systems can be used to create websites, web, and mobile applications, and any other applications as per your business needs. This can be helpful for non-developers who are fresher-level developers to develop applications on the cloud.  
Benefits of cloud computing:   
Cost savings:

With cloud computing, you need to pay as you use the resources. Hence it makes all the services cost-effective. Some of the cloud services are also to some level. For example, google mail. Google mail is given by google and allows users to use Gmail till 15GB for me. 

 

 

Increased collaboration:

With cloud computing more employees can work on a single file at a time seamlessly. Cloud computing provides a better opportunity to collaborate with the files in run-time. Moreover, the changes you made to the file will be visible to all. 

 

 

Automatic updates:

Cloud service providers can automate the update with the latest technology so that users need not worry about investing their working time in manual updates. 

 

 

Data Recovery:

We understand that data loss can collapse the entire business. With cloud computing, you have the proper measures to prevent data loss, and you can back up the data and information in the cloud.

 

 
Disadvantages of cloud computing:
Downtime: Downtime is a time when services are not working at their best. In other words, cloud services completely rely on the internet and without any active and stable internet connection it is impossible to fetch and access data from the cloud. We hope you are aware of the google outages in 2022 and 2020 that affect its services and business.

 

 

Security: Security is another major challenge in cloud computing. Although, these cloud services come with high-security measures. But there is always a security issue because these services are completely owned by third parties and storing confidential information can be a point of concern for some users.

 

 
How to Choose the Right Cloud Computing Provider?
Cost of Services:

You need to have a budget that you are comfortable paying for the cloud services. There are several service providers. You can discuss and compare the price of different service providers in detail.

 

 

Technologies and Support:

Your current infrastructure must be compatible with the cloud service provider. You need to ensure that your cloud service provider helps you in migrating your existing content into the cloud and that they are providing you the 24/7 technical assistance and support. 

 

 

The capacity of the service provider:

B

efore signing any provider, discuss your business's current and targeted traffic, and if they can handle it.

Also, you must ensure your service provider can handle sudden changes/workloads and other crucial factors.

 

 

Multiple Cloud models provider:

A cloud service provider must provide several types of clouds that are public, private, and hybrid clouds and models such as IaaS, PaaS (Platform as a Service), and SaaS (Software as a Service) as per your business requirement for deployment or maintenance of the application. 

 

 

Reliability and Security:

Cloud service providers should provide robust and resilient services. You can have a detailed conversation about their previous clients and the data security features they are providing right now. 

 

 

Data migration support:

You can ask the service providers if they are providing cloud migration. A good cloud service provider must be well-versed in the migration tools to help you to migrate the data from the existing system to the cloud.

 

 
Cloud Computing Architecture
The architecture of the cloud has two parts:  
Frontend (Client -side):
The front-end architecture of cloud computing contains the interfaces that are accessed by clients. It provides a graphical user interface for the client to communicate with the cloud.   
Backend (Server-side):
The backend architecture of cloud computing contains the cloud accessed by the provider. It contains services such as IaaS, PaaS, and SaaS along with virtual machines, deployment models, traffic control mechanisms, etc.   
Benefits of this cloud computing architecture:
It makes the entire process of data processing easy.

 

It results in better disaster recovery.

 

It gives better user accessibility and reduces operational costs. 
Cloud Service models
Software as a service
In cloud computing, software as a service means you can use any software without installing it on your system. Some of the SaaS business services include ERP (Enterprise resource planning), CRM (Customer Relationship Management), sales, and billing.  
Some of the SaaS companies are:

 
Google, Microsoft, Salesforce, Adobe, etc. 
Infrastructure as a service
IaaS makes resources available as per pay. It is responsible for providing highly scaled services to automate administrative tasks. It gives GUI (Graphical User Interface) and API-based access to the users.  
Some of the IaaS service providers are:

 
DigitalOcean, Linode, Amazon Web Services (AWS), Microsoft Azure, Google Compute Engine 
Platform as a service
Cloud service providers provide software and hardware to their users under this cloud computing model. PaaS can be provided by public, private, and hybrid clouds for development and other related works. A user can take advantage of PaaS services on a web browser with the help of the internet.  
Some of the top PaaS service providers are:

 
Microsoft, Google, Amazon Web Services, Redhat, etc.  
Industries in which Cloud Computing Services are used. 
Banking:

Cloud computing is providing credit risk analysis in the banking sector. This also involves machine learning and natural language processing. Single cloud-based interaction systems help banks to gather a large amount of data with great accuracy. 

 

 

Manufacturing:

In manufacturing, cloud computing is used for predictive maintenance to collect and analyze device data. Cloud-based twin technologies can also help in simulating the behavior of the device as it works in the physical environment. 

 

 

Logistics:

Cloud computing in logistics can be used to minimize maintenance costs. Cloud solutions can help this industry to provide users with the opportunity to work from various locations. Cloud computing also provides API (Application Programming Interfaces) integrations to simplify data exchange. 

 

 

Telecommunications:

Cloud computing can be used to minimize space and power requirements. Moreover, with IoT (Internet of Things), the cloud manages the changing networks seamlessly because of predictive analysis. 

 

 

Healthcare:

In the healthcare sector, cloud computing helps in easy data sharing and retrieval. It also helps in the development of healthcare-related applications. The main advantages of having cloud solutions are flexibility and scalability.

 

 
Tips for a Successful Cloud Computing Transition 
1. Evaluate the existing system
Before performing any data migration. It is necessary to analyze the state of business right now. As questions to yourself such as Do you need a migration? You need to revise all the integration and process. So, before making any decision about data migration, you must analyze it in detail.   
2. Reconfigure
Reconfigure your existing system. You do not need to migrate all the data. Since it might be possible that you do not need a little data. Also, try not to migrate the legacy system errors during data migration.   
3. Prepare team and resources
You need to prepare your team to migrate data from an on-premises system to the cloud. Moreover, if your team is not ready then you can either invest to train them to perform the migration process or else you can hire a cloud service provider.   
4. Develop a migration plan
There are multiple migrations strategies. You can have a look and choose the best plan or strategy based on your needs.   
5. Separate the responsibility areas:
You need to clarify the roles and responsibilities to avoid any conflicts. You must have a detailed interaction with the service provider related to the service models they provide such as IaaS, PaaS, and SaaS. 
6. Setting up the environment:
While setting us the cloud environment, you need to be sure that all the services and components are compatible with each other. You can meticulously clean up the old storage and then run the services in parallel for some time. 
7. Follow each step:
You need to follow these steps. As 20+ years of cloud solution provider company, we can recommend migrating each process one by one. You can follow the following process for your business if you find these relevant to your requirements.  
You can migrate the non-critical process to understand the process first and to ensure that the process is correct.

 

You can migrate the time-consuming process first to speed up the process.

 
Perform continuous monitoring and testing: 
You need to track KPI (Key Performance Indicators) and system security. Do not ignore user feedback and experience to ensure the performance of the system.   
8. Control System Security:
You need to track sensitive data management. You also need to ensure the authorization and authentication security level. It protects your system from any sensitive information leakage.  
Need Help With Cloud Solutions?
Our experts can help you in developing your next world-class cloud softwares.
Some Cloud computing Solutions
Google docs:

Google docs is a word processor provided by google with the help of the internet. Apart from this, there are other services you can use to prepare spreadsheets and presentations. 

 

Skype:

It is a Microsoft product that lets people communicate. Many companies use it to communicate with their clients and employees to fulfill their business needs. 

 

Zoom:

It is also cloud-based software for audio and video conference meetings. It gives the facility to record and save the meetings on the cloud.

 

Salesforce:

Salesforce is also an American-based cloud company that gives customer relationship management. 

 

Dropbox:

This is a personal cloud storage service. This is saved and allows you to access your data from multiple devices.

 
Let us help you to understand the top cloud computing services providers in detail: 
Amazon Web Services:

Amazon web services (AWS) is a cloud computing service provided by Amazon. Amazon web services are a mixture of infrastructure as a service, software as a service, and platform as a service. 

 

Microsoft:

Microsoft Azure provides a facilities platform as a service, infrastructure as a service, and database-managed services that support different programming languages, tools, and frameworks given by Microsoft and third-party software and systems.

 

 
Security Measures for Cloud Computing
Include Multi-Factor Authentication

 
Multi-factor authentication contains more than one way of authorization. For example: if a user wants to log in to a system, then along with the password, the user needs to provide their fingerprints or one-time code which they received on their phone or email. There can be some other ways as well. 
To enhance the security of your system you can set authorization at different access levels. Since not all users require access to the entire data. You can assign the access levels according to the need of the user.   
Monitor End User Activities to Detect Intruders

 
Intruders might log in to your system using unknown/fake IP addresses. This situation can be avoided by continuously monitoring user activities. Thus, in case of any irregularity or unusual pattern can indicate you in case of any attack or security breach.   
Anti-Phishing Training for Employees.

 
Mostly the hackers are trying to hack employees' credentials. You prevent this, you need to train your employees regarding the types of phishing attacks So that they can keep their credentials safe. If you are providing training for your employees.  
Some of the Best Cloud Computing Services are:
Amazon Web Services:

This is one of the web host brands. It provides Compute, Databases,  VPS hosting, Windows VPS hosting, Email Hosting, SSL certificate, AI, serverless code, and many more services.

 

Google Cloud:

Google Cloud is a suite of cloud computing services given by Google.

 

Microsoft Azure:

It is a public cloud platform given by Microsoft to develop web and mobile applications. 

 

IBM Could:

It is a combination of the platform as a service and infrastructure as a service to provide solutions. 

 

Oracle Cloud:

It is a cloud computing service that provides servers, networks, applications, and services through the global network.

 

Alibaba Cloud:

Alibaba is a cloud computing service on a pay-as-you-go basis. It provides relational databases, data storage services, and much more. 

 

 
Let us discuss a few differences between traditional and cloud computing.   
Traditional Computing versus Cloud Computing
Traditional Computing

 

Cloud Computing

 

You need to buy assets and pay even if the assets are not in use.

 

You need to buy services and pay as you use them.

 

It is static.

 

It is dynamic.

 

We have physical data centers.

 

Cloud computing has cloud-based data centers.

 

Data backup and recovery options can be a tedious task.

 

It comes with backup and recovery options.

 

There is no way to access the information remotely from anywhere.

 

Information can be accessed remotely from anywhere with the help of the internet.

 
How can OTS help you?
OTS can help you with the best cloud computing solutions. We offer the best solutions with the help of certified cloud computing experts. If you want to know more contact us today!  
Conclusion:
We hope this blog gives you the expected information about cloud computing  solutions and services. If you still have doubts, then feel free to contact us at OTS Solutions. We would like to provide you with the best answer. Also, we have 20+ years of experience in building cloud-based solutions. If you need any help? Contact us immediately. 
Need Help With Cloud Solutions?
Our experts can help you in developing your next world-class cloud softwares.
Frequently asked questions:
What Is an Example of Cloud Computing? 
Microsoft Azure and Ubuntu are examples of a public cloud and private cloud, respectively.  
List of industries that make use of cloud computing. 
Cloud computing is helping various industries. Some of these are manufacturing, telecommunications, Information technology, and many more.  
Is cloud computing a growing industry? 
Cloud computing is a growing industry. In fact, according to experts, the public cloud market can even grow beyond US $500 BN by the year 2023.  
Is cloud computing the 4th industrial revolution? 
Yes, cloud computing is the key enabler in the 4th industrial revolution along with the major technologies such as the internet of things, Chatbots, and augmented and virtual reality.  
What is the role of cloud computing in the industry? 
Cloud computing helps in providing scalable and easy access to resources to everyone.